Lugar: Fritz Club, Berlin
Fecha: 12 de Abril de 2015
Redactores: Fani Nadki & Benner
Fotografía: Fani Nadki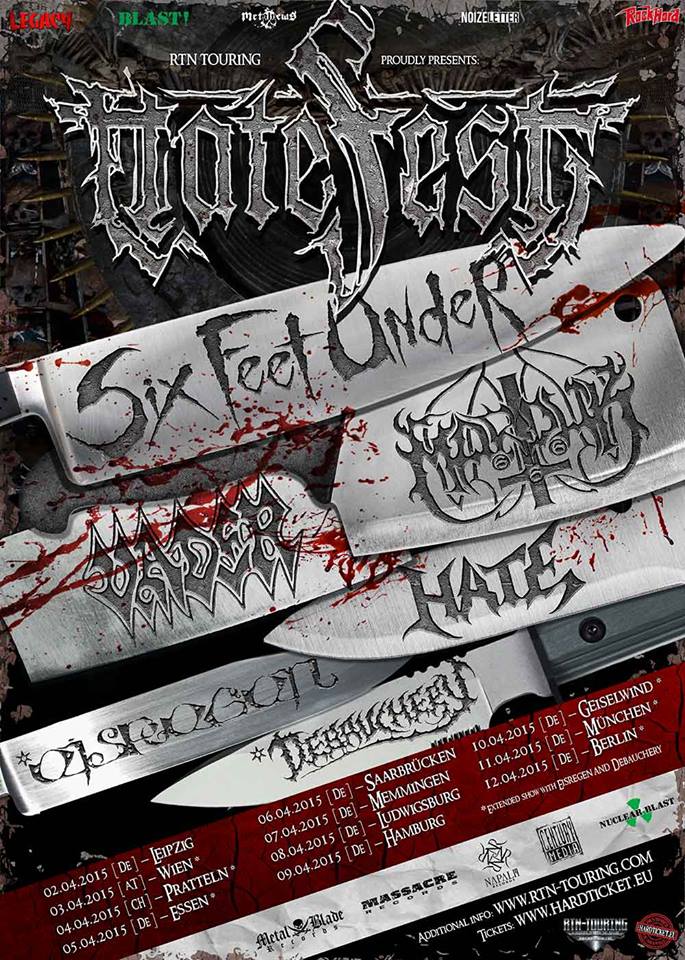 Una mini gira de 11 fechas centrada en Alemania y con un par de incursiones extra; República Checa y Austria en la que participan 4 de las bandas más destacadas del Metal Extremo: Six Feet Under, Marduk, Hate y Vader. Junto con Debauchery y Eisregen en 6 de las 11 citas.
Variedad de estilos: Death, Thrash, Black... Que completan un cartel más que apetecible para cualquier amante de la música más underground y extrema.
Última fecha del tour, Berlin, 12 de Abril. Un plan perfecto para rematar el fin de semana.
Esta vez, al ser domingo y con nada más y nada menos que 6 bandas de las que disfrutar. El local abría sus puertas a las 16h de la tarde y la fiesta comenzada tan solo 30 minutos después. Tiempo justo para coger sitio, comprar unas cerveza y relajarse unos minutos.
Debido a algún que otro problema técnico, en esta ocasión el "running-order" fue muy diferente.
Primera formación en salir a escena: Hate.
La banda polaca lleva en activo desde 1990 y su único miembro original es el vocalista y guitarra "Adam The First Sinner". Hace tan solo 2 años perdieron a su bajista Mortifer, lo que fué un duro golpe para la banda. Pero siguieron en pie y este año han publicado otro genial largo de la mano de Napalm Records; "Crusade:Zero"; título que presentaban aquella noche.
Destacan por su precisión y gran técnica a la hora de componer Death Metal y además lo ejecutan a la perfección en directo. Con una frialdad a la hora de tocar que muestra esa oscura brutalidad que hay tras Hate.
Un recital breve pero brillante. 45 minutos en los que no faltaron temas como Erebos, Omega, Hex, Leviathan o Wrists.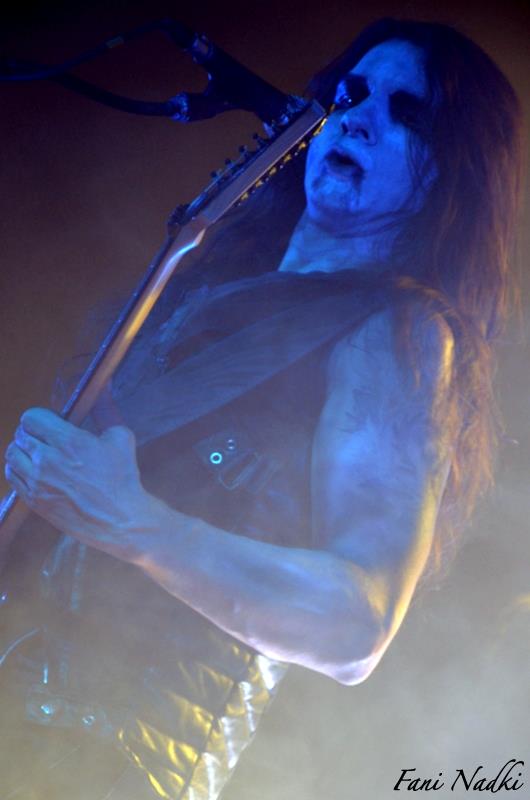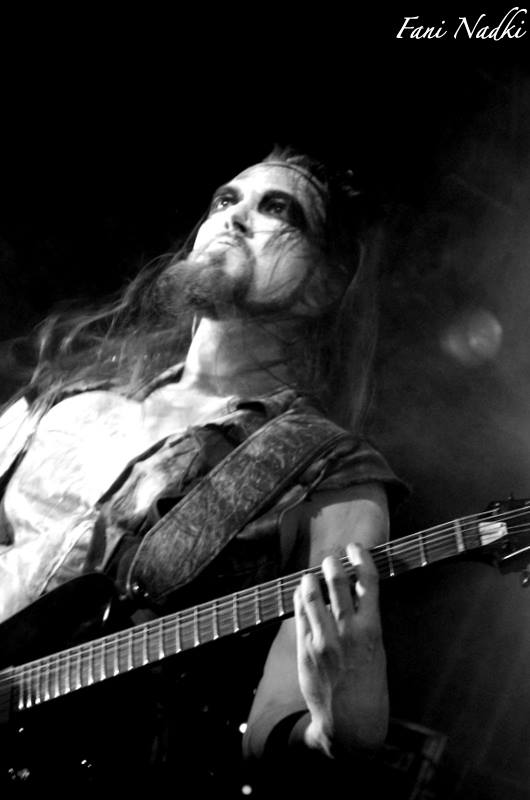 Continuamos la velada con Debauchery. Una banda que destaca principalmente por su puesta en escena; maniquíes de mujeres mutiladas, mucha sangre y ellos vestidos como verdaderos asesinos y en un entorno de absoluta depravación, como su nombre indica.
Un directo que engancha desde el primer instante, tanto si conoces su música como si no, ya que no puedes evitar sentir curiosidad de ver qué se cuece sobre las tablas.
Volcados completamente ante su público y exactamente igual a la inversa, mucho carisma y actitud.
Y por supuesto, esa mezcla de Death Metal y sucio Rock and Roll que encaja perfectamente con su imagen.
Un gran concierto, ameno y divertido en el que la interacción con la masa era constante.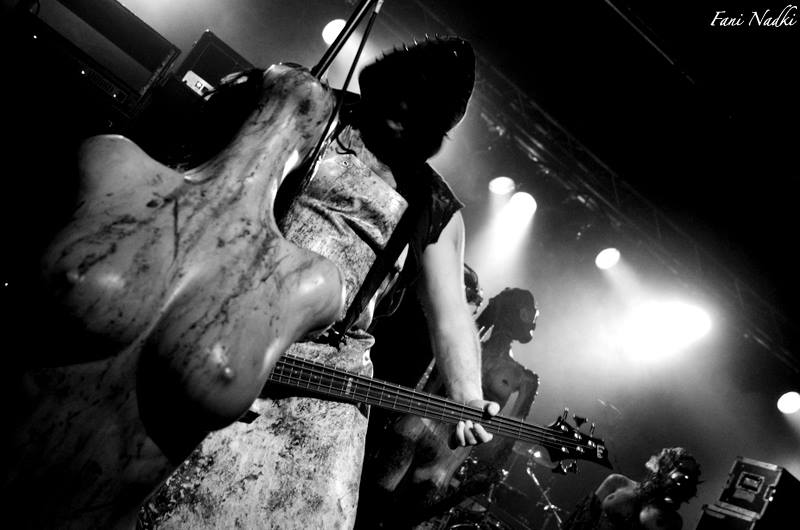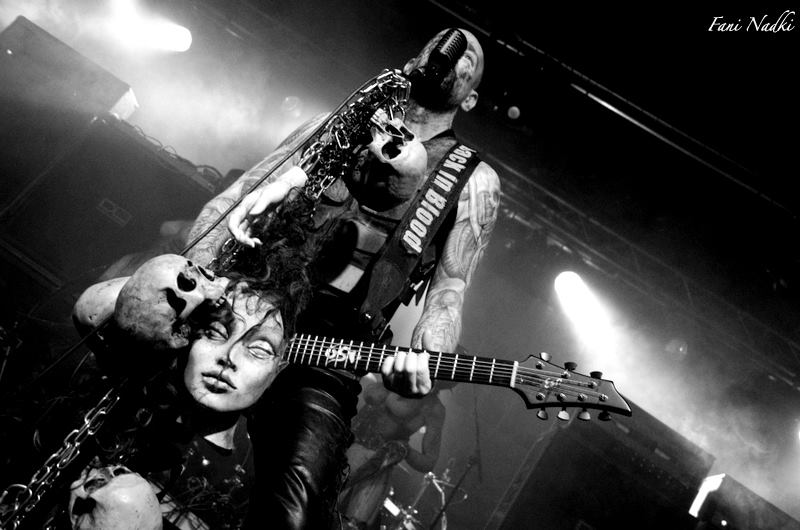 Minutos más tarde disfrutamos de una de las bandas más representativas del Death Metal de Florida; Six Feet Under. Banda formada por el que fué primer vocalista de Cannibal Corpse; Chris Barnes (Lo conoceréis por sus larguísimas rastas) y que cuenta con músicos con una trayectoria más que destacable en el mundo del Metal Extremo.
Death con toques de Groove.
Un buen concierto, bien ejecutado pero que no termino de enganchar a todos los presentes, ya que no es una banda que destaque por su rapidez.
También es cierto que los años acaban pasando factura, y ya no se mueven como hace 20 años.
Aún así terminamos la hora de descarga con buen sabor de boca. Sobre todo cuando sonó "Hammer Smashed Face" de Cannibal Corpse. Broche dorado para finalizar el bolo.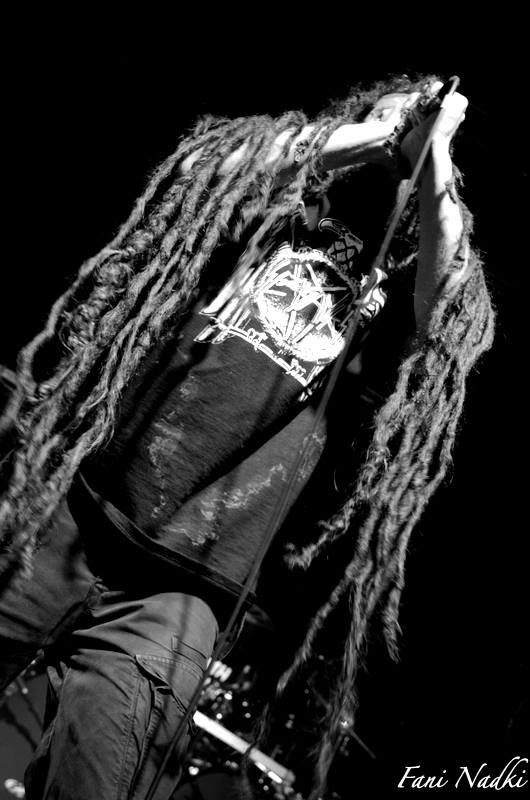 Turno para una de las bandas polacas más veteranas; Vader. Descargando esa perfecta fusión de Thrash y Death Metal a la que han sido fieles desde su comienzo a principios de los 80.
Embutidos en cuero y con un millón de tachuelas y pinchos arrasaban desde el primer instante.
Y recalcar que repetimos situación; Peter, frontman de la banda, es el único miembro original y alma de la misma. Y sin duda en el que se centran todas las miradas debido a su actitud y carisma.
Una enorme cruz invertida en el micrófono central. Oscuridad y brutalidad al límite.
Era el momento más Thrasher de la noche.
Un apunte que desconcertó un poco al gentío fué que al dirigirse a nosotros lo hicieron en tres idiomas diferentes; alemán, inglés y polaco...
Nos presentaban su último largo, publicado el pasado año y que cuenta con críticas excelentes una vez más "Tibi Et Igni".
Temas de sus últimos trabajos, clásicos de la banda...
Empezar con Wings... Silent Empire, Carnal, Cold Demon, Dark Age... Y un apoteósico final de la mano de This Is The War.
Unos enormes Vader que demostraron estar en plena forma y con mucha guerra que dar.
La penúltima banda en salir a escena sería Eisregen. Banda Alemana de Dark Metal.
La banda se puede dividir en dos épocas: Sus primeros años, en los que publicaron LP's de gran calidad como "Zerfall" y "Krebskolonie" tras la que se estancaron y empezaron a copiar lo anteriormente editado pero con una calidad absolutamente inferior.
Esa noche solo tocaron 3 temas de su "época dorada" y se centraron en su material más nuevo, con lo que consiguieron no enganchar a apenas nadie y dieron un recital bastante plano, monótono y desganado.
Tras bandas tan potentes y agresivas fue un momento de "bajón".
Tampoco podemos decir que fue un absoluto patinazo, pero si el peor concierto de la noche.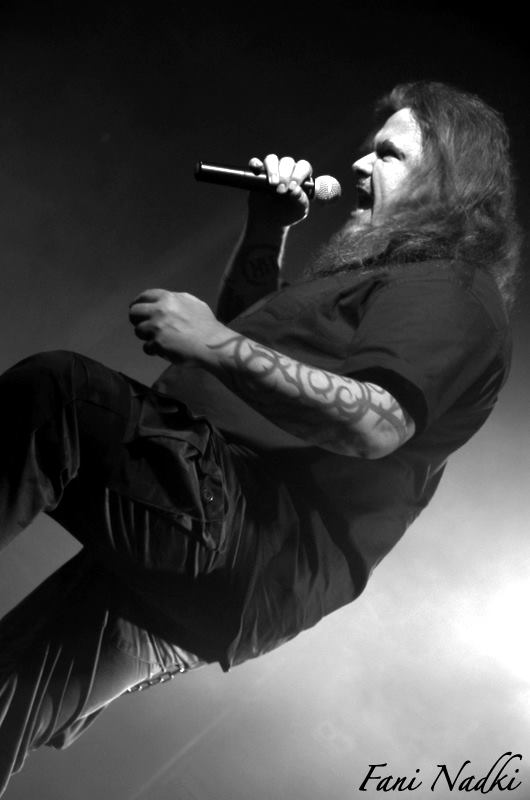 Hora de clausura. Y los encargados de cerrar eran Marduk. Para muchos de nosotros la primera banda que nos viene a la cabeza al hablar de black Metal sueco.
Oscuridad y mucho humo, que apenas dejaban ver a los miembros de la banda durante todo el recital y algún que otro problema técnico que no tardaron en solventar. Una escasa hora de duración en la que se centraron en su último trabajo "Frontschwein" y tocaron brevemente trabajos anteriores. En el caso de su obra maestra "Panzer Division"; solo pudimos disfrutar de un tema: 502. Y olvidándose casi por completo de sus primeros 4 largos, tocando tan solo The black..., tema que encontramos en su ópera prima "Dark Endless".
Pero es sencillo de comprender ya que la banda ha sufrido numerosos cambios en su formación, y el único miembro original que ha estado en su line up desde el principio es su guitarra: Morgan. Aunque en este momento podemos decir que la banda esta bastante consolidada desde que en 2004 volvió el que fuera guitarra entre el 92 y 94, Devo, como bajista y el actual cantante; Mortuus.
Absolutamente fríos y muy estáticos que dejaron claro que lo que fué Marduk en sus inicios no va a volver jamás.
Tendremos que conformarnos con los actuales Marduk y esperar a que la próxima vez nos sorprendan con esos clásicos que tanto echamos de menos los seguidores más clásicos.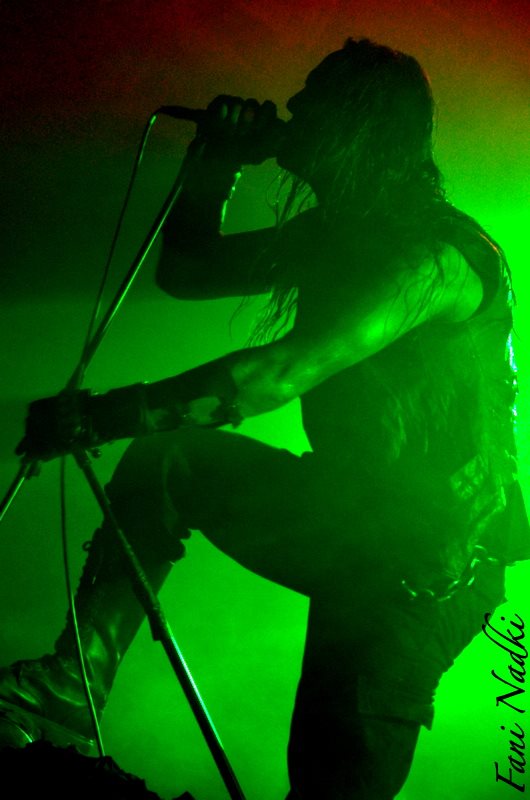 En definitiva; una balance más que positivo. Y una gran apuesta la de crear una minigira que resulta ser un festival de tan solo una tarde con bandas de tan alto nivel. Lo que nos recuerda lo poco que queda para que llegue el verano y poder disfrutar de todo lo que esta por llegar; Hellfest, Wacken, Metal Days, Obscene Extreme, Resurrection Fest, Tuska Open Air.... Y una lista sin fin de enormes eventos que nos harán pasar como cada año momentos inolvidables. Cargados de buena música, reencuentros, fiesta y aventuras!


Nos vemos en la próxima descarga!